Sponsor a Yeshiva Bochurs Learning on Purim
A bochur who learnt on Purim night
Get a beautiful double zechus!

Congregation Supporters of Torah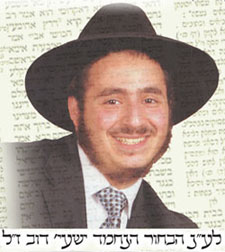 This Purim, more than ever before, bochurim are looking for a meaningful Simchas Purim.
Twelve years ago on Purim night a mini-revolution happened. A group of very special Baalei Battim sponsored bochurim from Yeshiva Torah Temimah to sit and learn two hours on Purim night. Each bochur earned a $250 check to be used towards a tzedokah of his choice. The bochurim were able to raise funds for tzedokah and use their time in a meaningful way. The bais hamedrash boomed with Kol Torah and this certainly was the ultimate in kimu vkiblu of the Simchas HaTorah.

For Habochur Hachoshuv Yeshaya Dov Eckstein A"H it would be his last Purim. He came home with such simcha - he had learned with such geshmak on Purim night, and through this unique learning program his group had collected over $3,500 for tzedokah.

Over the past ten years, lilui nishmoso the family continued this program. Each year the program grows and is now emulated by many other yeshivos. Over 300 bochurim committed to learning TWO hours last Purim by night. It was an amazing Kiddush Hashem and now many Yeshivos have emulated this program on their own. Many more Bochurim have called again to register this year and to continue this beautiful program. We can only make this happen with your assistance.
PLEASE help continue this beautiful program, this DOUBLE zechus - Tzedokah/Matanos L'evyonim plus Torah Learning.
Each Bochur receives a voucher to fill out for a bona fide Tzedokah and the bochur will also learn in your zechus TWO hours on Purim by night. Sponsor a Yeshiva Bochurs Learning on Purim is part of Cong. Supporters of Torah a non-profit 501c3 organization - Tax ID 112127174. If you have any questions or want to know more details about the program, please feel free to send an email to: purimlearning@gmail.com - thank you!
Last year we also had the unique opportunity to add another 100 plus, NY kollel yungerleit - a true matanos levyonim. They spent two hours learning Purim by night and the money was available for the yungerleit on Purim morning. Another 45+ yungerleit who each raised $250 towards their Kollel or yeshiva and received this money before Pesach.
This year we would like to duplicate - your reward - l'netzach netzachim! B'yedidus, Mishpachas Eckstein